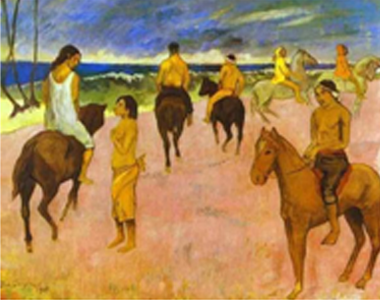 Artwork
Pick a painting that captivates you. Imagine yourself inside that painting. What do you observe? What are the characters saying to each other? Is there a sense of mystery or urgency that you want to address? Write your impressions down fast and then shape them into a short work of fiction (500-2000 words.)
Gauguin's painting, created shortly before he died, inspired Pam's story "Taken." It was published in Linden Avenue Literary Journal and can be read in this website's Excerpts.
Collages
Create a collage about one character. It may capture the atmosphere of a scene or focus on someone's  prized possessions. Collect images from magazines, calendars, or family photo albums. How does your character perceive her surroundings? What household objects define his world? Find a color that best captures his mood. Keep in mind that you are creating an inspirational guide not a work of art.
Pam created several collages for her novel. The Bridge suggests a teenage girl's flight from her remote Maine island. As she drives her car toward the mainland, she veers into the water. (See text from The Causeway in Excerpts.)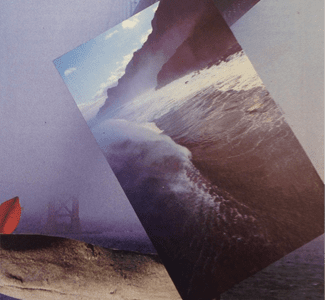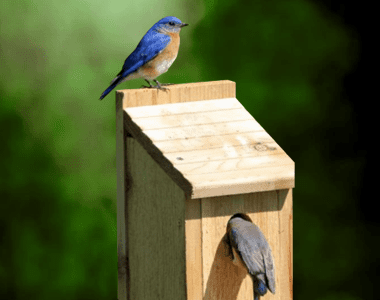 "How To" Instructions
Write a "how to" story. Pick a project that appeals to you and give your reader a series of instructions. Explain step by step how you will do something. Start by writing a list and then flesh each item into a paragraph. Take your reader on an emotional journey too. Your tale can be fanciful or realistic—how to build a birdhouse or how to find a lover in the library.
This playful format inspired my story "How to Remove a Lady from Her Seaside Home," published by SLAB literary journal. (See Excerpts.)
Pamela J. Wolfson [shows] a wonderful faith in her readers to see what she sees, to share in the love of language and its ability to find beauty if only we look.
I enjoy the fact that painting, like writing, is a language, and one can become more fluent over time. Writing can inhabit places where painting can't and vice versa.
You've got to work with your mistakes until the look intended. Understand?